The Duck and the Darklings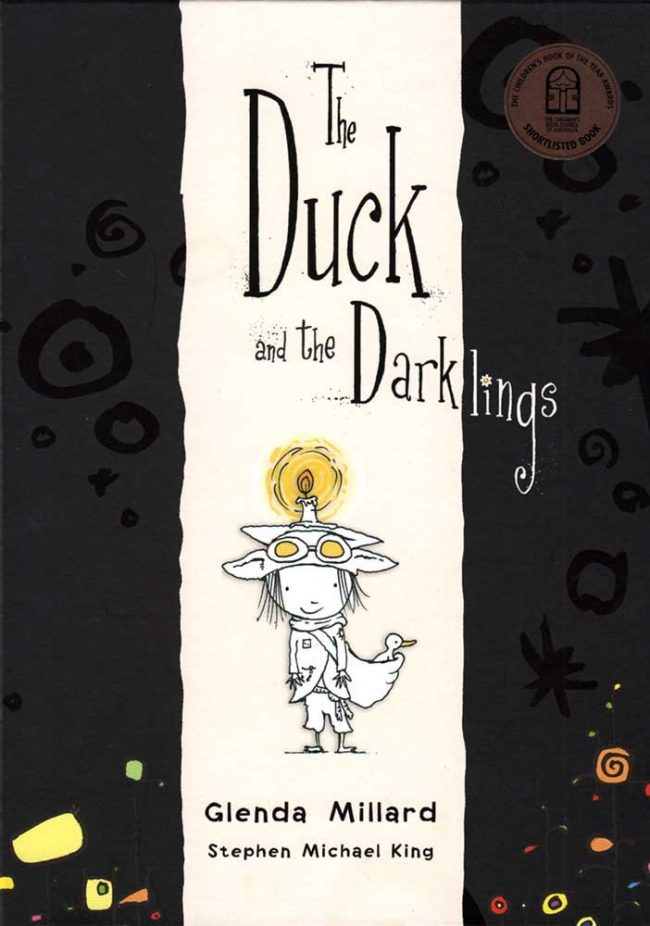 The story read quite dark; it had Darkling in the tile. I was confused at first until Glenda (who'd written it especially for me) said that it was my job to bring the light. One of my favourite moments is on page 6 when the word DARK, the first word on the page, features large and is coloured pure white.
As the design unfolded I chose not to lock the background into a time and place, instead drawing from some of my favourite modern art hero's (Miro, Calder, Picasso). I used black ink abundantly, flicking and splatting it all over the place. I added splishes of colour to bring a dash of hope to every page, and the illuminated candles on the Darkling head lead us all into the light.
The Duck and the Darklings won the Western Australian Premiers Literary Award and was nominated for the NSW premiers literary award and the CBCA book of the year. Some people love it, other people are not so sure. Once I agreed to illustrate it, I didn't judge it. For me it was one of the most adventurous illustrating jobs I've ever had the privilege to be involved in.
Glenda and I had a publisher A&U that backed our ideas 100%. More often than not, people tell me that it's a masterpiece.
awards
2015
White Raven Book (International Youth Library) – Commended
CBCA Picture Book of the Year – Shortlist
The Wilderness Society's Environmental Award for Children's
Literature, Picture Fiction category – Shortlist
NSW Premier's Literary Awards, "Patricia Wrightson Prize for
Children's Literature" – Shortlist
2016
Western Australian Premier's Book Award: Children's Books – Winner
2017
Nominated for a Sakura Medal in Japan
Allen & Unwin
2014
illustrations
links