Prudence Wants a Pet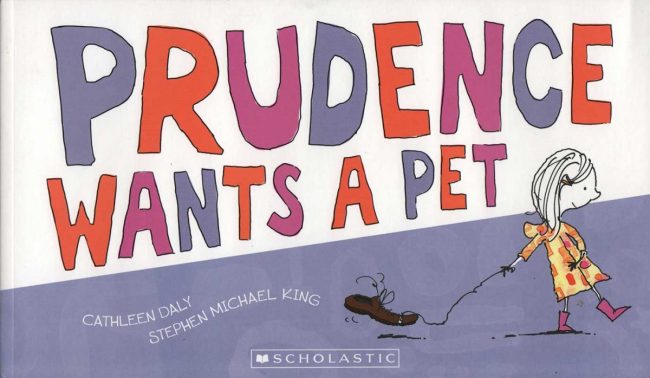 I'd always wanted to do a book the same size as Beatrice Schenk/Maurice Sendak's "What can you do with a Shoe?". Prudence came along and immediately I knew what to do: illustrate the book from a knee high view, make the adults so tall that their heads don't even fit on the page, keep the art black line and Prudence's clothes varied, colourful and beautiful. Ultimately convince my publisher to use a book size that Sendak had used back in the 1950's. Thanks to Neal Porter/ Roaring Brooks Press (who also published LEAF in the U.S.A) for not even twitching at the idea.
"Sweetly illustrated by Stephen Michael King (Leaf), 'Prudence' deftly combines funny and cute, and has a resourceful heroine too." The New York Times Book Review
"I admire this book so much I have adopted it as my pet. I drag it around with me wherever I go, never letting it out of my sight." Lemony Snicket
"It's ultimately Daly's dry humor and her wonderfully imaginative and persistent protagonist that elevate this book above typical kiddo-wants-a-pet fare. King's deceptively simple illustrations and spare line drawings punctuated with color are hilarious, perfectly chronicling the ups and downs of Prudence's endeavors, as well as her emotions." The Horn Book
This book is still in print in the USA (see link).
overseas additions
Prudence Wants a Pet has been published in Australia, France and USA.
awards
ALA Notable Children's Books,
Washington Children's Choice PB Award Master List,
Illinois Monarch Award: K-3 Children's Choice Award,
Nebraska Golden Sower Award Master List,
American Library Association Notable Children's Books,
Washington Children's Choice PB Award ML
Roaring Brooks Press NY, USA
2011
Scholastic Australia – 2011
illustrations
links